Like most parents, I had a difficult time changing my baby's diaper once she started rolling and wiggling around.  As a mother of two, with baby number three on the way, I already had everything a mother could need, or so I thought.   I really needed something to help secure my wiggly baby while changing her diaper.   I searched everywhere for a restraint or harness that could securely hold my baby to my diaper changing pad.  I couldn't find anything that suited my needs.  I had to come up with something that would assist me and every parent with each diaper change.  So, I wanted this device to attach to my existing diaper changing pad and to all standard diaper changing pads.  I came up with the Wiggle Worm Wrap, a universal diaper changing pad baby restraint that would work with any changing pad ranging from 28" to 36" long.  The wrap needed to be soft, comfortable, sturdy, machine washable, machine dryable, and it needed to adjust to my growing baby.  The Wiggle Worm Wrap accomplishes these and more.  It aids with every diaper change and gives me added peace of mind. 
The Wiggle Worm Wrap also attaches to most diaper changing surfaces like travel crib changing tables and public restroom changing tables.
My company is a one person business.  I wear all hats and with the help and support of my husband, I am able to provide Wiggle Worm Wraps to anyone who needs an extra set of hands when changing their baby's diaper.  All the pictures you see on this site are of my babies (with the exception of testimonial photos).
Thank you and take care, 
Stephanie Shumway 

There are so many additional benefits to using the Wiggle Worm Wrap.  For instance, now that my baby is used to the security of the Wiggle Worm Wrap, she doesn't even attempt to roll or wiggle away while changing her diaper.  I also use the wrap to hold my daughter while getting her dressed.   The hook and loop fasteners allow for a large amount of growth.  If needed, my one year old daughter should be able to use the Wiggle Worm Wrap for another twelve months.  In addition to working with standard changing pads, the Wiggle Worm Wrap works with travel changing tables like the pack n play.  So bring it with you on trips. 



While I was in the Hospital for over a month due to complications with my third pregnancy, we discovered that the Wiggle Worm Wrap also works with wall mounted public restroom changing tables.  As you can see, it secures your child on all changing surfaces.  This is a picture of my baby girl on the changing surface in the hospital's NICU restroom.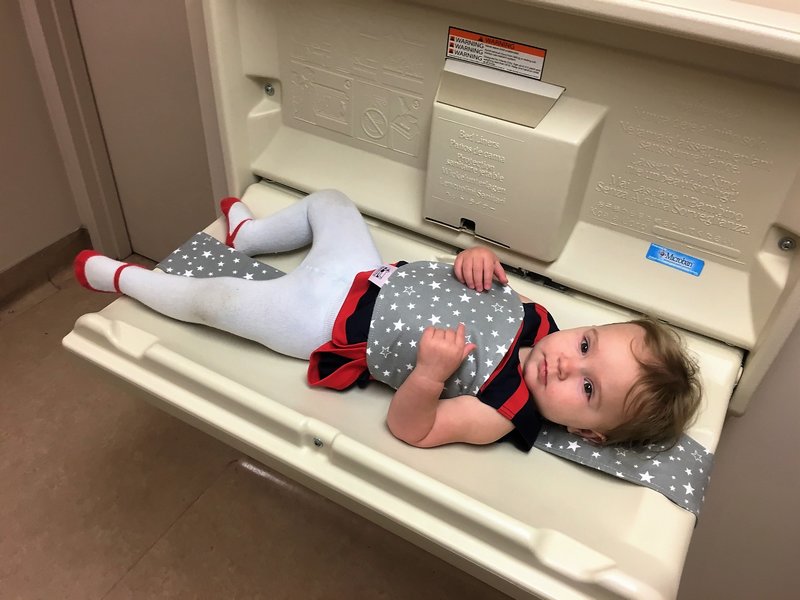 When I was searching for help with production, it was important to me that the Wiggle Worm Wrap was handmade in the USA.  I found a manufacturer in San Francisco, California.  I am very proud that every Wiggle Worm Wrap is hand made in my home state of California and each one is personally inspected by me before being shipped. 
The Wiggle Worm Wrap is durable and long lasting.  Not only have I been using the Wiggle Worm Wrap on my daughter for over a year, I am now using it with my new baby boy.  It is nice that it adjusts to your growing baby and lasts.
As I and others use the Wiggle Worm Wrap, we will continue to update you about the benefits.
I hope you enjoy your Wiggle Worm Wrap.